The musician and producer worked on recordings by Aretha Franklin, the Rolling Stones and George Michael
Jimmy Johnson, co-founder of the celebrated Muscle Shoals sound studios and guitarist on Aretha Franklins Respect, has died age 76. His son Jay Johnson said he died on Thursday; the cause of death was not disclosed.
Johnson and his bandmates in the Swampers founded the studio in Sheffield, Alabama, in 1969, after leaving the employ of Rick Hall and his nearby Fame studios. They were the first group of musicians to own a studio and later run their own publishing and production arms.
As the Muscle Shoals Rhythm Section, guitarist Johnson, keyboard player Barry Beckett, drummer Roger Hawkins and bassist David Hood performed on hundreds of recordings, including albums by Franklin, Wilson Pickett, Paul Simon and Lynyrd Skynyrd.
Skynyrd name-checked the group in the lyrics to the 1974 hit, Sweet Home Alabama. They also appeared on the cover of Chers 1969 album 3614 Jackson Highway the studios first address. The building was a former casket factory.
Born in Alabama, Johnson cited his father and Chuck Berry as early influences on his decision to pick up the guitar. Chuck provided me with a little song called Johnny B Good, Johnson told guitar company Gretsch in 2014. When I heard that tune on our local AM radio, I absolutely had to learn how to do that.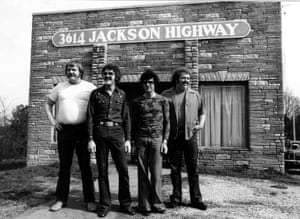 Read more: http://www.theguardian.com/us