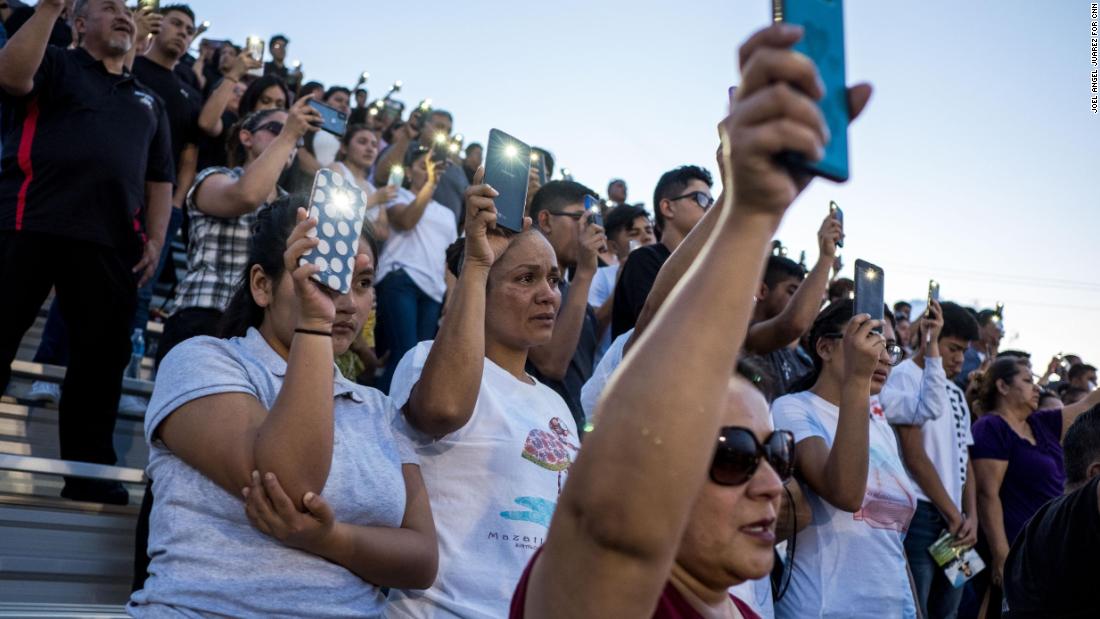 (CNN)In many parts of Texas there are phrases rarely mentioned in polite company, white supremacy being one of them.
But on September 7, a little more than one month after a gunman in a racially motivated attack killed 22 people in El Paso and following another gunman's shooting rampage in the cities of Midland and Odessa, pleasantries and politics will be cast aside. Immigrant rights groups and members of the Poor People's Campaign have
organized a concert
, the El Paso Firme Music Fest, that includes performances from world-class musicians such as Residente and Ana Tijoux and is presented as a call to action against white supremacy.
Organizers seem intent on disabusing anyone of the notion that ongoing hateful anti-immigrant sentiment and violent debates about border security are simply policy differences about law and order, not expressions of racism. They are right in this — the El Paso violence
was an attack on Mexicans
, as a prior statement attributed to the gunman makes clear. Anyone familiar with the lexicon of race in Texas knows, for most, "Mexican" refers to citizen, non-citizen, green card holders and Tejanos whose roots in the state predate the battle of the Alamo.
On concert day, 78-year-old El Paso resident Guillermo Glenn, who survived the massacre and who grew up near Odessa and still has family there, will be among the speakers. He plans to correct some misperceptions about the deadliest attack on Latinos in modern history. Rather than a remote racist ideological island or aberration, the massacre was the violent expression of an ongoing assault against Latinos in Texas.
"The incident is very clearly defined (as a) terrorist act, but you can't see the institutional racism," Glenn recently told me in El Paso. "It's very difficult to distinguish the whole ideology from the system that hides it."
The signs are obvious to those who look.
Racist ideology, says Glenn, was already blatantly on display in the El Paso area just days before the massacre. "What would attract the white supremacist," asked Glenn. "Well, you already have armed white supremacists who are right on the edge of the city."
The group's web site describes its mission to "unite private citizens that share a common belief in providing national security for our Southern Border through the construction, administration and maintenance of physical barriers inhibiting illegal entry into the United States." A week before the massacre Kris Kobach and Steve Bannon, supporters of the wall project, traveled to the site for a weekend "symposium." Interestingly, not one of the five locals, mostly Latinos, who I spoke with in Sunland Park last week could locate the wall or mentioned the so-called security symposium.
"We have been bullied, our community has been bullied relentlessly to give up our power," said Antonio Arellano, interim executive director of Jolt Action, a statewide group to mobilize Latinx voters. "This was motivated by the fact that we are growing in influence and political power."
"We can sit here and say 'Trump,' but it's been going on for years," Muniz said
Three years ago, Texas Attorney General Ken Paxton, who has released statements expressing sympathies for victims in both El Paso and Odessa and Midland shootings, waged a vicious legal battle to defend SB4. A federal court partially upheld the law.
In his so-called "manifesto," the alleged killer described an impending Texas future as a Democratic stronghold that would result in the "destruction" of the nation and he targeted people whose citizenship and claim to political rights have been systematically and relentlessly attacked in Texas: Latinos.
Attacking Latinos is deeply woven into the genetic coding of the state that was built on the perception that some are more worthy to govern than others. In the 1968 history "Lone Star: A History of Texas and the Texans," regarded as "
canonical
," by some, author T.R. Fehrenbach described the growing Latino population as analogous to an invasion and civil rights gains that curtailed state-sponsored oppression as a Texas retaken by the Latinos via the ballot box.
Even after the massacre, efforts at marginalization shamelessly persist. In response to the massacre, Abbott named
a task force
. Of the 18 members appointed to, in Abbott's words, "root out the extremist ideologies that fuel hatred and violence in our state," three are women and one is Latino. Even in death, the claim to power is evident. At the recent memorial, which drew thousands,
the speakers
included a parade of mostly white elected officials and not one member of the victims' families.
But to some, the relentless campaign of marginalization and dehumanization has a galvanizing effect. Arellano, Jolt's director, tells his group's Latinx members and eligible voters, "We measure our freedom by courage. When we are afraid, we are no longer free." And, he says, that the suppression is indicative of the political potential of Latinos in the state.
Indeed, Latinos are projected to be the largest non-white voting group in 2020,
according to
estimates by the Pew Research Center. There are indications that anti-Latino, anti-immigrant rhetoric will have a mobilizing effect on Latino voters. Matt Barreto, co-founder of Latino Decisions, says that his research shows strong intent among Latino registered voters in Texas to come out to the polls in 2020 and that many in the community say they view Trump and Republicans as hostile to Latinos.
Despite the oppressive climate and now outright violence, none of the Democratic presidential candidates have addressed the unique strain of racism toward Latinos in its full historical scope and context. In the upcoming debate on September 12, in Houston, Democrats have a chance to speak to this generation's deep hostility toward Latinos who now fear becoming victim 23 and who represent a potentially decisive vote in Texas.
On Saturday, in El Paso, however, artists, clergy, musicians and the public will be creating a language, a message to define the moment — an end to white supremacy. And it's long overdue.
Read more: http://edition.cnn.com/